RIDE ON
There's
A Lot More
Riding On Metro
Than People.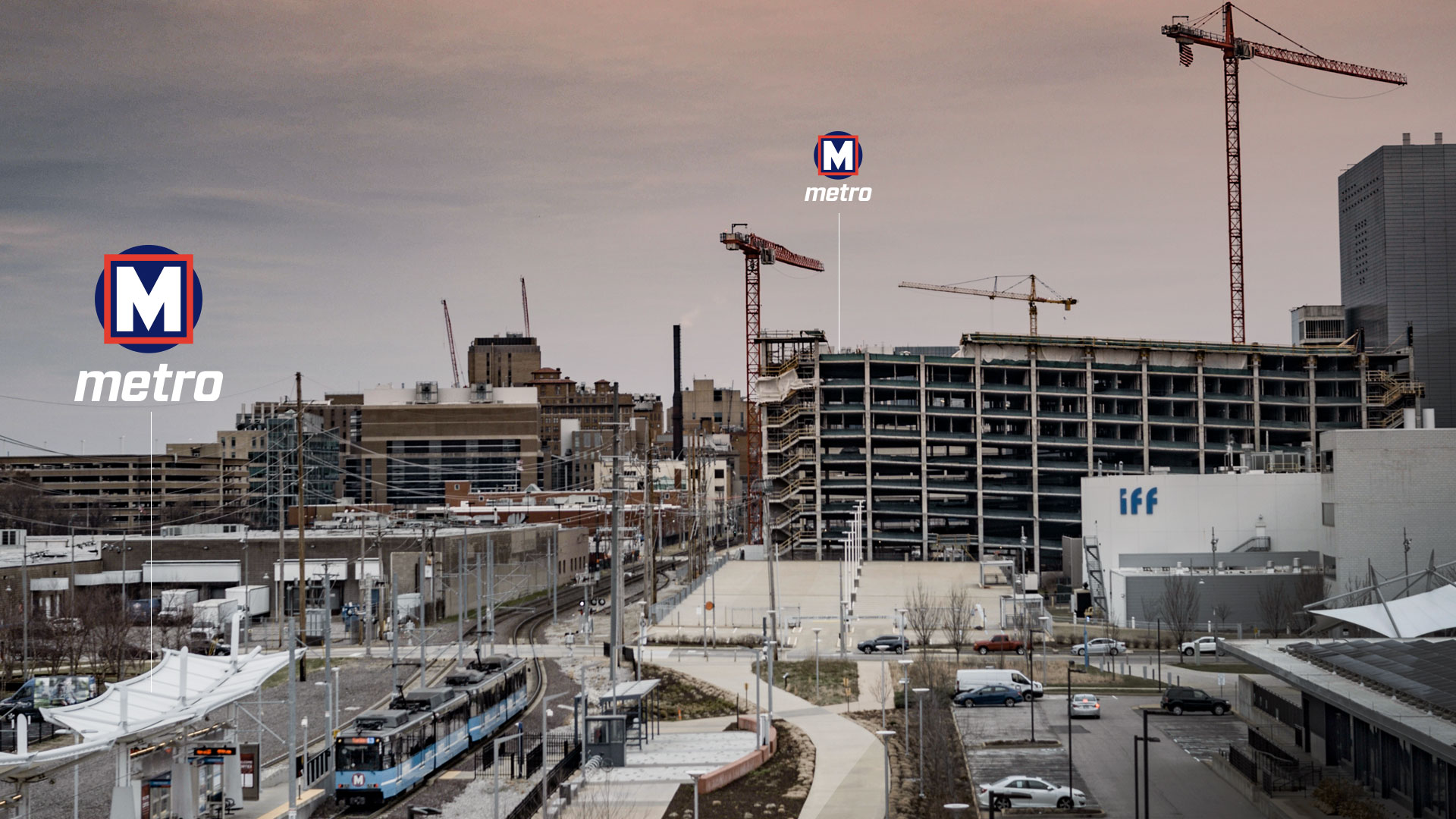 THREE REASONS TO BELIEVE
1. We impact everyone –
either directly or indirectly.
2. More than $10.2 billion in
commercial development
since 2011.
3. We've been here enhancing
lives since 1963 —we belong
to everybody.
Uniquely Qualified to Make This Happen
In terms of having the civic or economic justification to credibly connect with everyone living in our region, Metro Transit stands alone.
There is no other local brand – or sports team, for that matter – which serves 2.8 million people 24/7.
We've been our region's biggest fan since Day One.
Integrated Media Campaign
We'll build an integrated media campaign to simultaneously showcase Metro Transit's positive impact from a regionwide point of view, but also a more neighborhood-based point of view.
This effort will create a unified positive association for Metro Transit across all stakeholders, as well as the 2.8 million people in our region whose lives are directly and indirectly enhanced by Metro.
RideOnMetro.org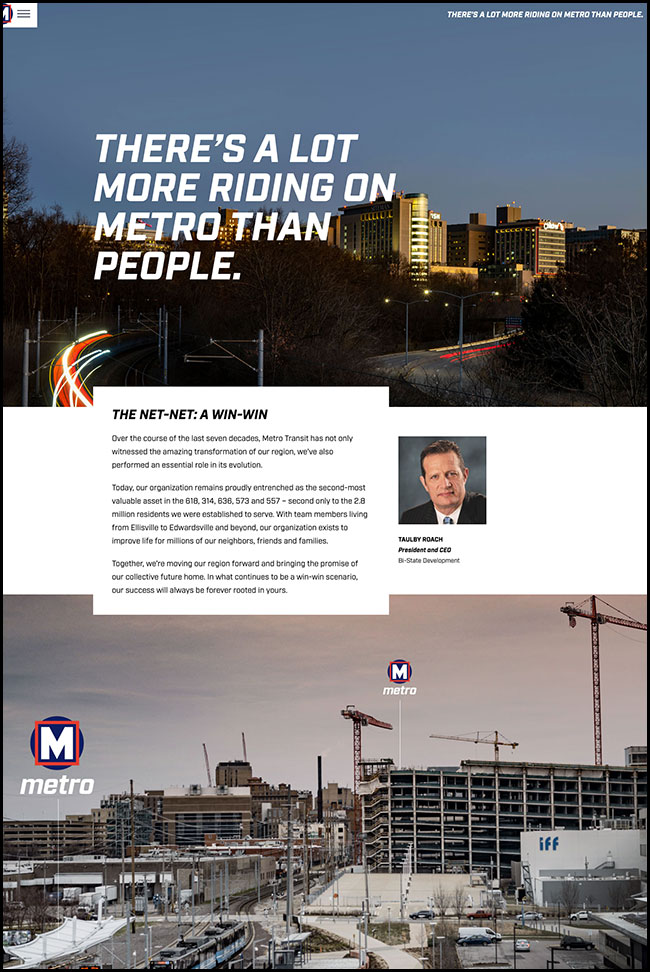 These are the initial media channels used in this campaign. Additional channels and messages will be woven into the campaign throughout the next 18+ months.
Print Campaign: Regional
MESSAGE: THERE'S A LOT MORE RIDING ON METRO THAN PEOPLE.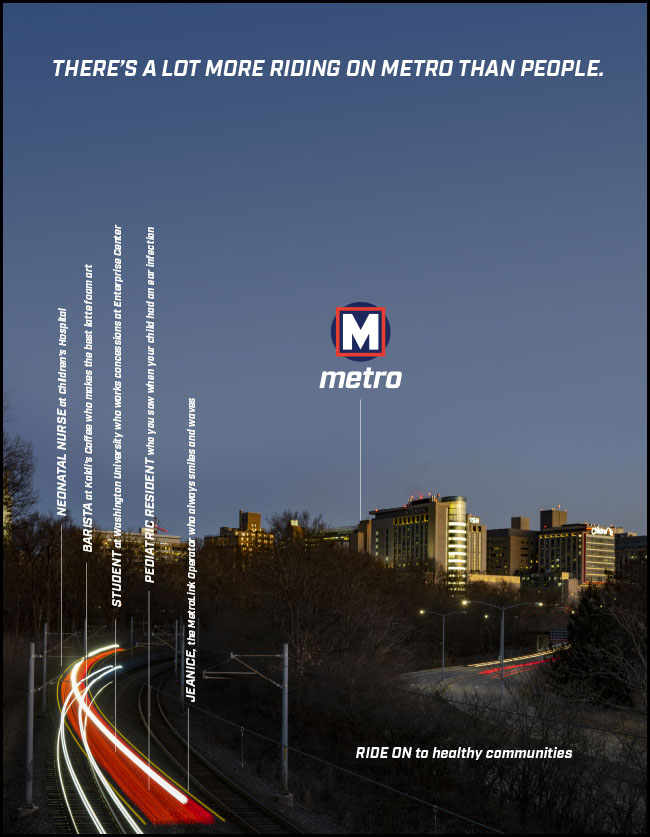 Illinois Business Journal
Ladue News
STL Magazine
St. Louis Business Journal
St. Louis Post Dispatch
Town & Style
Print Campaign: Subregional
MESSAGE: EVERYBODY NEEDS METRO, WHETHER YOU RIDE OR NOT.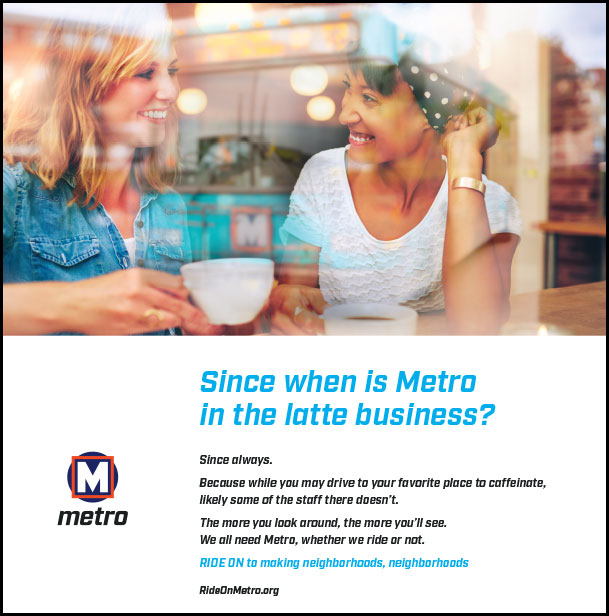 Community

St. Louis Chinese American
Red Latina

Lifestyle

Feast Magazine
STL Magazine
Town & Style

News

STL American
Belleville News Democrat
Webster-Kirkwood Times
Ladue News
Radio
Live read endorsements

Debbie Monterrey
DJ Shorty
Randy Karreker
Sponsorships
Commercials
Events